As many of the events for the coming weeks are cancelled due to the coronavirus measures, take a look at our Coronavirus page for events that you can now access online. Stay safe and see you soon! If you have an event you would like to share (online or in person), get in touch with us on webmaster@aspra.uk
___________________________________________________________________________
Interested in local history? 4th September 2020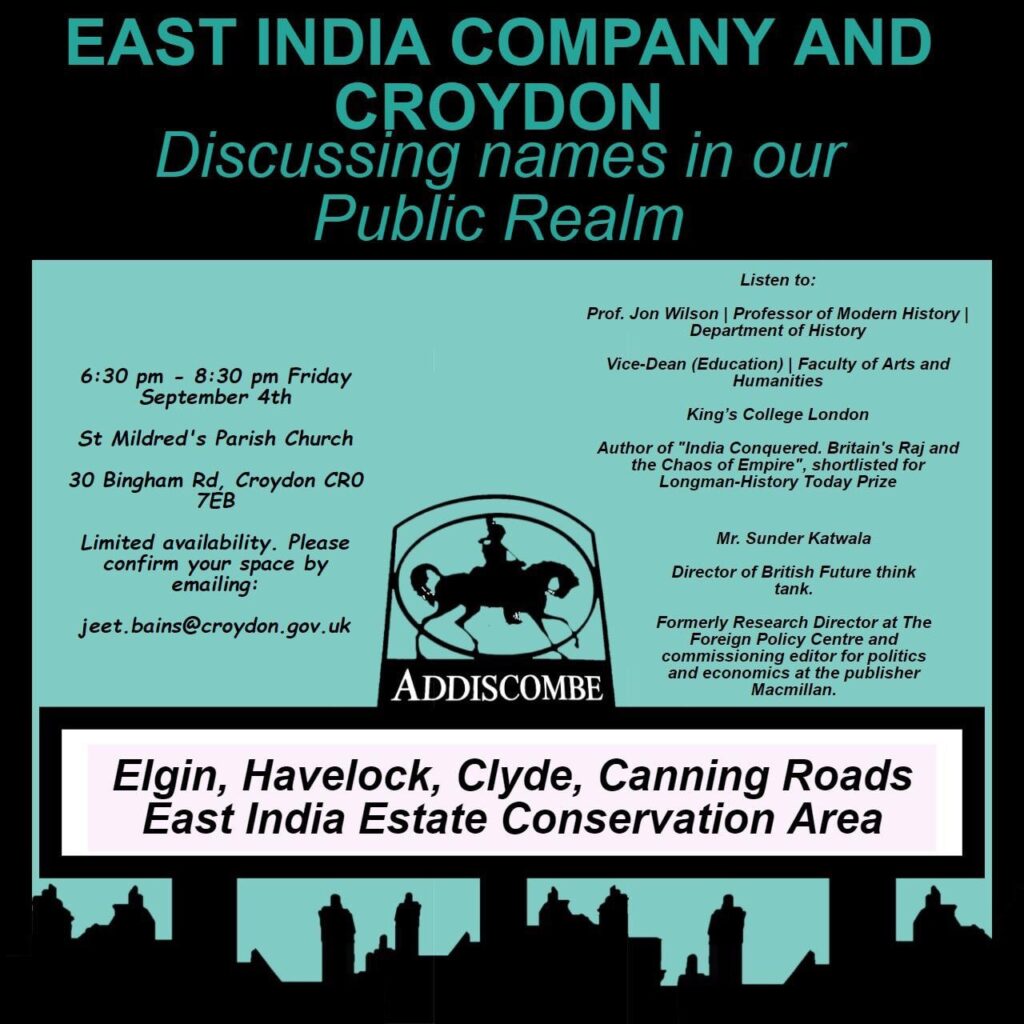 There has been much public debate in recent weeks about statues, street names, building names and other monuments in the Public Realm. Also, the Chancellor of the Exchequer has written to the Royal Mint Advisory Committee, supporting a campaign called 'We Too Built Britain', which seeks representation of non-white icons on British currency.
Here in Croydon we have our own history, particularly in Addiscombe where the East India Company military college was located. Many streets are named after East India Company figures, e.g. Elgin, Havelock, Clyde. We have an East India Estate Conservation Area too.
This debate encompasses how we understand our history and how modern-day British people have different views about previously glorified figures. It also raises questions about decisions made long ago regarding the Public Realm, and how today's people can effect change through legitimate, democratic, lawful means.
On Friday September 4th there will be an event with two invited experts to learn more about the real history of the East India Company and what the latest approaches are for local communities and their Public Realm. Places are strictly limited owing to Covid restrictions, and appropriate safety measures will be in place. Please email me at jeet.bains@croydon.gov.uk to reserve a place.
Event details:
Friday 4th September 6:30-8:30pm
St. Mildred's Church, 30 Bingham Road, Croydon CR0 7EB
Guest Speakers:
Prof. Jon Wilson, Professor of Modern History, King's College London
Latest work:
with Barbara McGillivray and Tobias Blanke, 'Towards a Quantitative Research Framework for Historical Analysis' in Michael Pietrowski, ed., Proceedings of the Workshop on Computational Methods in the Humanities 2018 (2019)
India Conquered. Britain's Raj and the Chaos of Empire (UK & India) / The Chaos of Empire. The British Raj and the Conquest of India (US), shortlisted for Longman-History Today Prize, Guardian best books of 2017
'How Modernity Arrived to Godavari', Modern Asian Studies 51, 2 (2017), pp.399-431
More academic writing at https://kclpure.kcl.ac.uk/portal/jon.wilson.html
Mr. Sunder Katwala, Director of British Future thinktank.
He previously worked as a journalist. He was general secretary of the Fabian Society thinktank from 2003 to 2011, and was previously a leader writer and internet editor at the Observer, a research director of the Foreign Policy Centre and commissioning editor for politics and economics at the publisher Macmillan. He celebrated his 10th wedding anniversary with his wife, Stacy, in 2011, and is the proud father of four children, Zarina, Jay, Sonny and Indira. His support for Everton and Southend United football clubs reflects an upbringing in Cheshire and Essex, though he was born in Doncaster, Yorkshire, to parents who came to Britain from India and Ireland, to work for the NHS.