This series of pages will be a (slowly) coming together collection of snippets,  current and historic (hopefully) interesting information about businesses in the main 'Village' shopping centre and the Shirley Road area around it's junction with Bingham Road.  Many of the shop fronts were photographed in 1992 by Pete Barry, an ASPRAland resident at that time (shortly after SPRA was formed).  Others were taken in 1991 by Al, an ASPRA member.  The two general views below taken by Peter Barry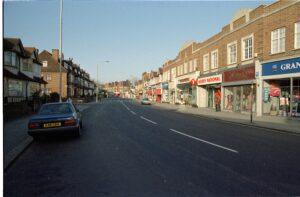 ..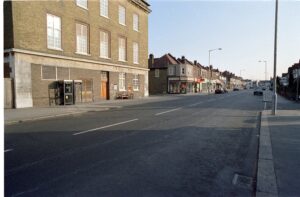 ASPRA is grateful to Peter for his hard work in making his collection available in a format we can use on the associated pages.
The set of pages are available here:   Addiscombe Shops – Info (new page)
Already 'remembered' but we need the 'door numbers' for the following businesses:-  Please do let us know where you thought these were, and perhaps which year(s) you remember them being in business there.
Shirley Road
Greengrocers; Bambinos; Brutons; Carpet Shop
Lower Addiscombe Road
Antigue Shop; Carpet Shop; Gas Board; International Foods; Irene Newmans; Mariotts; Mary Annes; Musks; Record Shop; Renown;United Dairies.
To name but a few!
Information to share about which shops were where, or fascinating facts about the businesses??  Please do  email projects@aspra.uk or get in touch with your road rep.