The below is a bit of general information about local health services. Get in touch on webmanager@aspra.uk if you have anything you'd like to add.
Defibrillators in Addiscombe
We have carefully gathered information about defibrillators in our area. A defibrillator is a device which gives a high energy electric shock to the heart of someone who is in cardiac arrest.
ASPRA's Social Media Rep visited local businesses to ask who has a device on their premises in order to produce this list and handy map – this information will be shared with other local organisations, put on our noticeboard and will feature permanently in our magazine.
If you're with someone who's having a cardiac arrest, call 999, start CPR and use a defibrillator if there's one nearby.
How is a cardiac arrest treated?
Starting immediate CPR is vital as it keeps blood and oxygen circulating to the brain and around the body. A defibrillator will then deliver a controlled electric shock to try and get the heart beating normally again. Anyone can use an automated defibrillator and you don't need training to do so. More information on
how to respond to a cardiac arrest here
.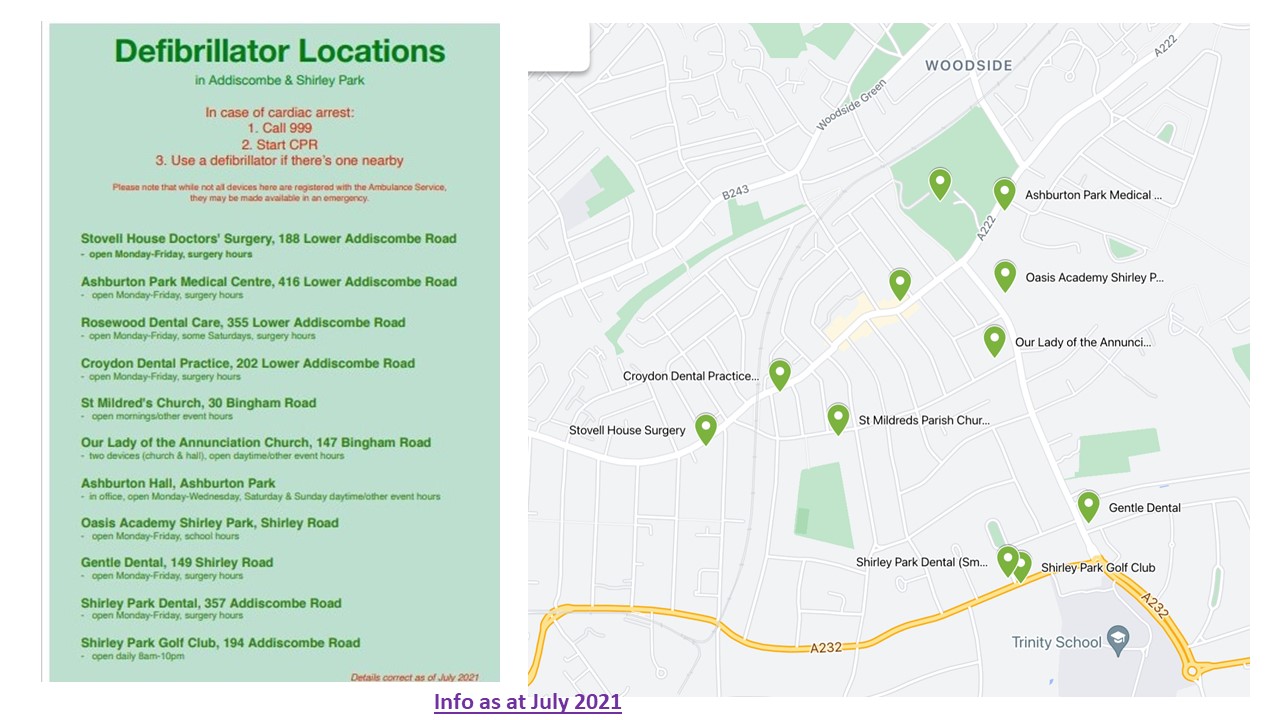 General Health in Croydon
Local GPs
Addiscombe Road Surgery (Dr B S Jayaratne) 395a Addiscombe Road CR0 7LJ
020 8654 2200
Ashburton Park Medical Practice 416 Lower Addiscombe Road CR0 7AG
020 3714 6868 2740
Stovell House Surgery 188 Lower Addiscombe Road CR0 6AH
020 8654 1427 7124
Dr Hp Abbot Shirley Medical Centre 370 Wickham Road CR0 8BH
020 8777 2066
Hartland Way Surgery 1 Hartland Way CR0 8RG
020 8777 7215
Dr Hp Abbot Norman House Brookside Way CR0 7RR
020 8656 3771
Morland Road Surgery (Dr Shah and Partners) 1 Morland Road CR0 6HA
020 8688 0434
Shirley Medical Centre 2 (Dr N Ford) 334 Wickham Road CR0 8BH
020 8777 1876
East Croydon Medical Centre 59 Addiscombe Road CR0 6SD
020 3657 4170