185 –
– 205
Built as 'The Exchange' in 1907/08 on the site of a former market garden. As listed on the Ordnance Survey map of 1911, numbers were 1 to 11 and included 1a.  Running from Inglis Road to the current tramline, now numbered 185 to 235.  Re-numbered after 19nn.
Image above merged from Peter Barry images taken in 1992.  Individual business details follow.  If you have any more info, please email projects@aspra.uk or chat to your road rep.
No185
Currently occupied by One Stop Sports, since 20xx
20xx to 20xx known as Addiscombe Sports Corner
1992, taken by Pete Barry
Previousy (no known dates, yet) has been an Off Licence, Ladies Boutique and a Barbers
.
1911 (as no 1 The Exchange) Scudamore, Bootmaker
No187
Currently occupied by Addiscombe DIY, since xxxx
19xx to 20xx Sealeys, Hardware
19xx to 19xx R & G Sealey, Ironmongers
1992, taken by Pete Barry
.
1911 (as no 2 The Exchange) Phillips, Domestic Stores
No189
Currently occupied by Ossies, Fish & Chips.  The shop fascia has 'since 1947'!!
.
1911 (as no 3 The Exchange) Brown, Draper
No191
Currently occupied by Hertys Hair, Hairdressers, since 2007
……
1963 to 1993 Miller Wilkins, Estate Agents
1992, taken by Pete Barry
.
1911 (as no 4 The Exchange) Fry, Wine Merchant
No193
Currently occupied by NISA Local, Convenience Stores, since 20xx
.
1992, taken by Pete Barry
.
1911 (as no 5 The Exchange) Grimsby Fish Company
No195
Currently occupied by Addiscombe Dry Cleaners, since 1984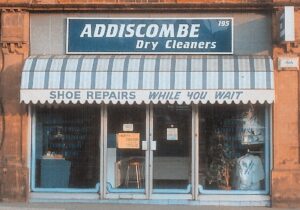 1992, taken by Pete Barry
Previously a Dry Cleaners, no info
1911 (as no 6 The Exchange) Hammond & Sons, Grocers and Post Office
No197
Currently occupied by Grill Hut, Take Away, since 20xx
2018 Chicken Coop, Takeaway – Chicken
2007 to 2017 Rezla, Takeaway – Indian
20nn to 20nn Pappadom, Takeaway – Indian
1992 J&A Foods – Ice Box, Frozen Foods

1992, taken by Pete Barry
1911 (as no 7 The Exchange) Morson, Baker & Pastrycook
No199
Currently occupied as a convenience store, since 20xx
19xx to 19xx Mace, Convenience Store
1992 Shayona, Newsagents

1992, taken by Pete Barry
1911 (as no 8 The Exchange) Colbran, Newsagent and Tobacconist
No201
Empty since 2023
2021 to 2023 Reconstruction Kitchen since 2021
19xx to 19xx Serenity Beauty
1991 to 1992 Motorcraft, Car Spares

1992, taken by Pete Barry
.
1911 (as no 9 The Exchange) Nicholls, Dining Rooms
No203
Currently occupied by Farrago, Fishmongers since 2022
1999 or earlier to 2022 The Prawnbrokers, Fishmongers
1992 Skordis, Convenience Store

1992, taken by Pete Barry
.
1911 (as no 10 The Exchange) Hammond, Fruiterers
No 205
Currently occupied by The Valet, Gentlemans Hairdressers, since 2016 or earlier.
.
1991 to 1992 Foto Express, Photographic printers

1992, taken by Pete Barry
1911 (as no 11 The Exchange) Deeley, Butchers
Other pages are:-